Smithwick report: Lady Sylvia Hermon rejects criticism of husband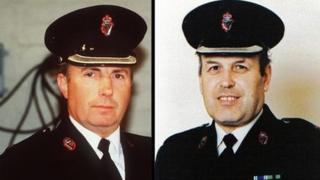 The wife of a former NI chief constable has hit back at criticism of him in the wake of the Smithwick report.
Ch Supt Harry Breen and Supt Bob Buchanan were shot dead by the IRA in south Armagh in March 1989.
The then RUC Chief Constable Sir John Hermon, and his counterpart south of the border, discounted the possibility of a mole within Irish police.
However, this week the inquiry concluded there had been collusion between the IRA and Irish police.
On Saturday, Sir John's wife, Lady Hermon, the MP for North Down, said she remembered how "upset and deeply angry" her husband had been at the time of the killings.
She said in a statement that he had been "intensely loyal" to all his police officers.
Lady Hermon said if her husband "had had a shred of real evidence of collusion between the Garda and IRA, he would have said so and acted on it immediately".
"However, there wasn't that evidence of collusion in March 1989, and I find it highly offensive to hear him stand accused, five years after his death, of having somehow failed to investigate properly the murders of Superintendent Buchanan and Chief Superintendent Breen.
"My husband would never have done that."
The attack happened as the two police officers crossed the border into Northern Ireland after a meeting in Dundalk Garda station.
Judge Peter Smithwick said the circumstances suggested information was leaked to trigger the IRA operation, and the timing suggested it was "more likely that the information came from Dundalk Garda station".
At the time, Sir John Hermon said: "There was no mole and we would ask that this be discounted very firmly and very quickly."
His counterpart in the Republic of Ireland, the then (Irish police) Garda Commissioner Eugene Crowley, said: "I absolutely and positively reject any suggestion of that kind."
The publication of the Smith report on Tuesday followed almost eight years of painstaking investigations.
The Dublin-based tribunal was established by the Irish government in May 2005 and began its private investigation phase 10 months later.
Judge Peter Smithwick said he was "satisfied there was collusion in the murders".