Peter Osborne: 'Bad leadership' shown by NI politicians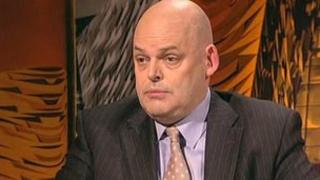 The Chairman of the Parades Commission, Peter Osborne, has accused some politicians in Northern Ireland of providing bad leadership.
He was speaking after a loyalist protest parade through Belfast city centre on 30 November breached a determination set by the commission.
The march was due to leave the city hall by noon but began an hour late.
Mr Osborne told the BBC's Sunday Politics show that politicians need to do more.
"I'm not happy that anybody's prosecuted," he said.
"Quite frankly there are people being prosecuted for parades-related offences and other offences that will have a hugely detrimental impact on their life.
"I think there's some bad leadership in Northern Ireland at the minute, the result of which, there are a lot of young people being arrested and prosecuted and have criminal records when they really don't need to have."
Anniversary
In the run-up to the protest on 30 November, some politicians in Northern Ireland appealed for calm, and for protesters to limit the impact on traders in Belfast.
Hundreds of loyalists took part in the march, which came days before the first anniversary of a council decision to limit the flying of the union flag.
The protest passed off without incident in the city centre but two police officers were later injured in north Belfast.
It happened at the junction of Tennent Street and Crumlin Road as they blocked demonstrators who left the designated route.
Police said they would investigate breaches of the Parades Commission's determination "using the extensive evidence-gathering operation which was in place".
Protests began on 3 December 2012 after Belfast City Council voted to fly the union flag at city hall only on designated days.
In November, police said 560 people had been charged or reported in connection with flag protests in Northern Ireland.
Two hundred and sixty people have already been convicted.