Mandela death: Gerry Adams to attend service at weekend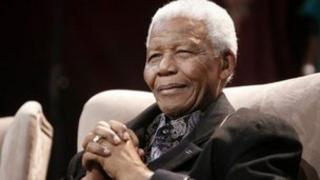 Sinn Féin President Gerry Adams is to travel to South Africa on Wednesday to attend events marking the death of Nelson Mandela.
Mr Adams was invited to the public memorial service in Johannesburg on Tuesday but was unable accept due to prior engagements.
He has been invited by the ANC (African National Congress) to a special memorial service on Saturday.
The event will take place at the air force base at Waterkloof in Pretoria.
Mr Adams said Sinn Féin was very proud of "the decades-old relationship we have with our friends in the ANC".
"It is a great honour to be asked by the ANC to attend their service of remembrance on Saturday where they will bid Madiba farewell."
Sinn Féin's Martin McGuinness, in his capacity as Northern Ireland's deputy first minister, will attend the public memorial service in Johannesburg on Tuesday.
Assembly First Minister Peter Robinson will not be attending the former South African president's funeral on Sunday.
A spokesman for Mr Robinson said he "was looking after executive business".