NI charity supports campaign to safeguard pensioner benefits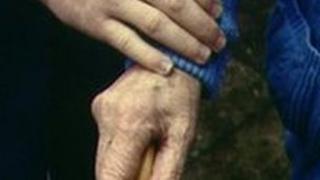 A Northern Ireland charity is backing a UK-wide campaign aimed at safeguarding pensioner benefits.
The "Hands Off" campaign highlights the costs and barriers of means testing for older people.
It said benefits such as the winter fuel allowance, bus passes and free prescriptions should not be means tested.
The campaign is backed by groups across the UK, who have called on politicians to oppose the move.
It is being supported by Age Sector Platform, a charity which represents the interests of older people in Northern Ireland.
"During the last year, pensioners have felt under constant attack," said its spokesman Nixon Armstrong.
"The myth that older people have escaped any austerity measures is totally groundless, and we will fight to ensure there are no further cuts or means testing of vital benefits such as the winter fuel payment, bus pass, free prescriptions or TV licences.
"We call on every individual, regardless of age, to support us in our campaign to ensure these benefits are maintained for pensioners now and in the years to come."