Two men arrested after 'knife fight' in Belfast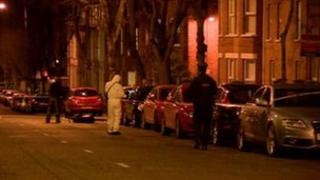 Police have made arrests after two men, who were both believed to have been armed with knives, fought in a south Belfast street.
It happened at Eglantine Avenue at about 20:40 GMT on Monday. Police said one of the men confronted the other who was trying to get into a house.
One man was treated in hospital for face and body injuries but his wounds are not thought to be life-threatening.
Two men, aged 33 and 34, have been arrested.