MLAs support sexual orientation strategy motion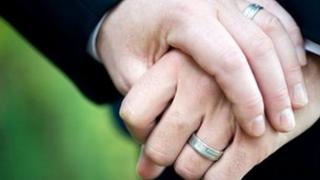 A majority of MLAs have voted to support a motion calling for a sexual orientation strategy.
The Alliance-backed motion called on the Office of First and Deputy First Minister (OFMDFM) to fulfil its 2006 commitment to produce a strategy to ensure equality and support for lesbian, gay, bisexual and transgender LGBT people in Northern Ireland.
Alliance's Anna Lo said on "equality issues, we so often fall short".
Ms Lo criticised OFMDFM for the delay.
She said it was essential to "increase our understanding of the issues affecting some of the most vulnerable in our society".
She said: "There is no apparent policy reason for the delay, which suggests it's a political reason."
Mike Nesbitt, chairman of the OFMDFM committee said a sexual orientation strategy would "ensure the rights of LGBT people are supported and enabled", and said he was shocked that "seven years on, we can't sign off on something so practical and sensible".
Sinn Féin's Megan Fearon said the seven year delay was "nothing short of ridiculous".
She likened LGBT rights to the Civil Rights movement and quoted Nelson Mandela, saying "there's no such thing as part freedom".
The DUP's Jimmy Spratt noted that primarily legislation already existed that protected people of all sexual orientations - including section 75 of the Northern Ireland Act, the Human Rights Act and the Civil Partnership Act.
He added that it was important to ensure the strategy was effective.
"Better to get it right than rush it through to meet a date," he added.
The TUV's Jim Allister described Mr Spratt's explanation for the delay as "disingenuous and insulting to our intelligence".
Mr Allister questioned the need for a strategy with the existing legal protections in place and cautioned of creating a "special status" with "specific legal protections".
He said "the outgrowth of this would be inequality".
The Green Party's Steven Agnew said he would "fight for anyone's right to equality of opportunity" and said it was important to send out a message to the LGBT community that their rights were important.