NBPA: Not enough Asian police officers in Northern Ireland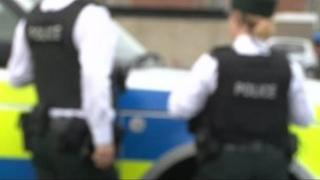 There are not enough Asian police officers in Northern Ireland, according to a body that represents officers from ethnic minority backgrounds.
The National Black Police Association (NBPA) has said it wants positive action to boost numbers.
It is understood that three of the Police Service of Northern Ireland's (PSNI) officers are Asian.
The PSNI says 0.54% of its officers are from a black or minority background, but does not keep an ethnic breakdown.
A Freedom of Information request by another group in 2011 revealed that at the time there were four Asians, out of a total 7,782.
There are about 12,000 Indians, Pakistanis and Bangladeshis who live in Northern Ireland, out of a total population of just under two million.
NBPA vice-president, Nick Glynn, said special measures needed to be taken to recruit more.
"It can be access to training before joining, courses that explain how the service works and the good things and bad things about it. It is just preparation to get them through to the interview stage," he said.
Community divisions
One Northern Ireland woman of Indian heritage has been a constable with the force for the last five years. She does not want to be identified for security reasons.
"Being a face for the community, from an Asian background, I wanted to represent my community," she she said.
"When I joined I wasn't aware of any other Asians there."
Members of the Asian community said there were several reasons why so few Indians, Pakistanis and Bangladeshis join up.
Community divisions and the threat of political violence are cited by some.
Others, like Vivek Tohani, a 41-year-old professional, said: "There is also a lack of role models, career progression and a general lack of awareness. I think there should be more outreach work."
In addition, the unemployment rate among young people from a south Asian background in Northern Ireland is low compared to parts of the rest of the UK.
Assistant Chief Constable Alastair Finlay said a recent recruitment drive was open to all young people.
He said once they have analysed the results of this year's recruitment drive they will look at whether they should focus on particular communities.