Mystery of Flossy, the circus flea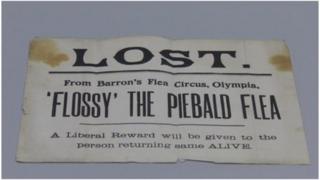 More than 100 years ago, a circus lost a very valuable performer.
So valuable was she, that they had a poster printed offering a "liberal award" for the return of said performer, alive.
What happened next is a mystery. For the miniature performer was one Flossy, a piebald flea.
No-one knows if she ran away from Barron's Flea Circus, Olympia, or just hopped on the nearest thick head of hair.
People are still scratching their heads over what happened to the missing flea.
But the poster that lay hidden in the archives of the Public Record Office of Northern Ireland (Proni) has been aired and can be seen on display in Proni's headquarters in Belfast's Titanic Quarter.
Proni director Maggie Smith said the flea poster was the first in a series of "documents of the month" and had already attracted a lot of attention, with people buying copies as Christmas presents.
"We introduced the item of the month to give staff the opportunity to showcase documents about which they are particularly passionate and proud," she said.
"Proni's collection is a treasure trove of more than 3m items. Each item has its own stories and human interest, and together these gems help form our collective memory.
"By showcasing documents like this poster about Barron's Flea Circus, we can demonstrate the rich diversity of our collection.
"Our online catalogue includes over 200 items relating to circuses, including Scott's, Duffy's and Hannaford's. These include photographs from the collection of HF Cooper whose studio was in Railway Street, Strabane, from 1913 until 1960."
Although the poster dates from the 19th century, it was deposited at the public records office in 1962.
John Rea, from the public services team who picked the document of the month, said: "While I was helping a member of the public by researching through our documents, I was bitten by the mysterious disappearance of poor Flossy.
"Did Barron's perform a rigorous search to find her? Alas, the reward was never claimed."
During December, Proni is open on weekdays from 09:00 GMT to 16:45 GMT. It will be closed on 25, 26 and 27 December and on 1 January.