NI air passengers stranded over fog at Heathrow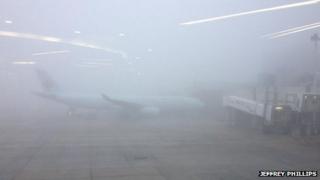 Scores of air passengers hoping to return to Belfast on Wednesday night were left stranded in London after flights were cancelled due to fog.
There were at least 280 flight cancellations at London's Heathrow Airport, causing disruption for thousands of air travellers.
Further cancellations are expected on Thursday due to the backlog.
East Antrim MP Sammy Wilson said British Airways (BA) passengers had been "abandoned".
Mr Wilson, who was stranded in London overnight, said: "Whilst BA can do nothing about the weather or the congestion at Heathrow, they could, at least, get themselves organised to deal with situations when disruption beyond their control occurs.
"They have plenty of experience of the backlog which occurs when a few flights are disrupted at the start of the day because of bad weather or some other incident, yet they never seem to learn."
"The last two flights of the day, along with others earlier on, were cancelled," he said.
"Despite the fact that BA knew there were delays they gave no information on their website.
"In fact, they were showing flights running on time so people trying to plan or seek other means of getting home were oblivious to the fact that there were major delays."
Heathrow airport runs at 99% capacity and any delays tend to have a knock-on effect.
Mr Wilson said: "That means if it loses any operating time, it takes days to get back to normal hence the disruption frequently experienced by passengers on short-haul flights from places like Belfast."
'Inconvenience'
In a statement, BA said: "As a result of thick fog at Heathrow yesterday, air traffic control imposed safety restrictions limiting the number of aircraft which could land each hour.
"BA therefore experienced some delays to services. We are sorry for the inconvenience caused by the poor weather. e
"We are continuing to rebook flights which had to be cancelled, or offering refunds."
On Wednesday, a spokeswoman for Heathrow said, on average, the airport handles about 1,300 flights a day.
The airport had to cancel flights because of an air traffic control requirement for more space on the schedule between planes during periods of decreased visibility, she added.
Meanwhile, Dublin Airport said the fog in London was causing some delays to its flight schedule on Thursday morning.
Passengers are advised to check their airline's website for information.