Ulster Bank account problems over euro payments resolved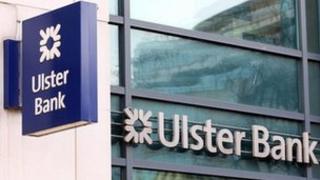 Ulster Bank has said an overnight payment system problem that delayed customers receiving euro payments has been resolved.
The bank said it was caused after some "inward credit transfers" were delayed through their payment system.
Ulster Bank said the payments had now been made and apologised to customers who had been affected.
The bank apologised on its Twitter helpdesk service.
It also used the social media network to reassure customers in Northern Ireland and the Republic of Ireland that the technical issue would only affect payments for a few hours.
Many angry customers claimed they were unable to access current transactions, wages being paid into accounts and other payments.
It is not known how many customers or payments were affected by the glitch.
Last week, a technical problem left Ulster Bank customers without access to their money.
Customers were unable to use cash machines, debit cards or access online or telephone banking.
Up to 750,000 customers from RBS, Natwest and Ulster Bank - the Royal Bank of Scotland group - were affected.
The RBS group said that it would compensate those left out of pocket as a result of last week's banking problems.
Ulster Bank said the problems affecting customers on Thursday only involved euro payments and not sterling.
A spokeswoman for Ulster Bank said any customers who had been left out of pocket would be reimbursed.