Kilrea engineering firm creates 27 new jobs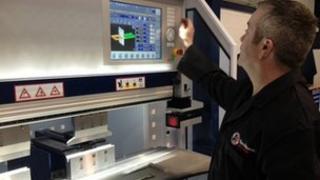 A Kilrea-based engineering firm is creating 27 new jobs as part of a £3.6m investment aimed at winning new business in the aviation industry.
SJC Hutchinson has formed a new division, Hutchinson AeroTech, which will be based at new premises in Antrim.
It will focus on cutting and shaping stainless steel and titanium components with hi-tech machinery.
The expansion is being backed by a £686,000 grant from Invest NI.
The firm is also working with a number of academic institutions and aerospace companies to research the effects of processing aerospace materials using laser cutting.
Mark Hutchinson, managing director of Hutchinson Aerotech, said the expansion builds on over 40 years' experience working with clients who demand precision and accuracy.
"Our investment in researching the effects of laser cutting on aerospace materials should differentiate us from our competitors and allow us to offer customers higher quality components for precision applications," he said.
Invest NI's chief executive, Alastair Hamilton, said: "Aerospace accounts for around 14% of manufactured exports from Northern Ireland and it is great to see Hutchinson AeroTech build on their strong engineering experience to diversify into this lucrative sector."