St Malachy's, Belfast, pupil loses CCTV challenge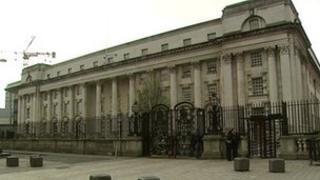 A north Belfast grammar school used CCTV as part of a probe into suspected cannabis use, the High Court has heard.
Details of the monitoring emerged as a GCSE student failed in a challenge to his expulsion from St Malachy's College on the Antrim Road.
No illegal substances were found to have been involved in the incident.
However, action was taken against him due to his disciplinary record and alleged intention to smoke a rolled-up cigarette in the school.
The teenager, who cannot be identified, was seeking to judicially review the board of governors and an independent appeal tribunal that had upheld the decision.
Part of the case made on his behalf involved a claim that he was subjected to covert surveillance which breached his Article 8 privacy entitlements under the European Convention on Human Rights.
But a judge rejected his argument after declaring the school had a legal duty to act in place of a parent.
Mr Justice Horner said: "In respect of a breach of Article 8 rights by the use of CCTV, I do not consider the rights of the applicant were engaged."
Even if they were, he added, such interference was both lawful and proportionate.
"The school was in loco parentis," the judge said.
"This constituted a minimal interference necessary to establish if illegal drugs were used on school premises."
Wider inquiries
The teenager was suspended and then expelled from St Malachy's earlier this year.
A number of other pupils linked to wider inquiries are understood to have left the school.
Lawyers from the Children's Law Centre claimed it was unreasonable to take action against the teenager because he was not involved in substance abuse.
As part of their case they argued that tests on a rolled-up cigarette seized in the incident found no cannabis.
But the judge refused leave to seek a judicial review after holding that the appeal tribunal subsequently convened by the Belfast Education and Library Board was fully aware of all facts - including key information that no illegal substances were involved on the day in question.
He said its decision was within the range of reasonable responses.
"In light of all the evidence I consider it to be unimpeachable," the judge held.
Even though an arguable case may have been established if the proceedings were focused on the school alone, Mr Justice Horner indicated that would have been pointless.
He added: "A decision to judicially review the board of governors of St Malachy's would be literally beating the air, given the carefully considered, rational and lawful conclusion of the EAT (Education Appeals Tribunal)."