Mandela death: Gerry Adams joins ANC guard of honour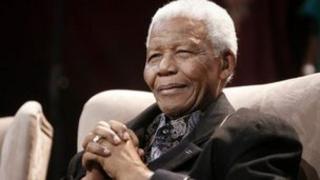 Sinn Féin President Gerry Adams has formed part of the guard of honour for Nelson Mandela at a ceremony in South Africa on Saturday.
He stood alongside members of the African National Congress at their farewell memorial service in Pretoria.
Mr Adams, the former MP for west Belfast, said he was honoured and privileged to take part in the tribute to the former South African president.
He was joined by party colleague Richard McAuley.
Mr Adams had been invited to the public memorial service in Johannesburg on Tuesday but was unable to accept due to prior engagements.
Northern Ireland First Minister Peter Robinson will not be attending the former South African president's funeral on Sunday.
A spokesman for Mr Robinson said he "was looking after executive business".