Stephanie Meehan gets 5,000 euros of McFeely bath cash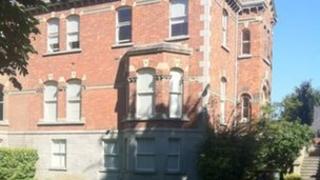 Some of the thousands of euros found in the former home of a bankrupt developer is to be given to a bereaved woman who bought one of his fire risk flats.
In September, 200,000 euros (£169,000) in cash was found in the repossessed home of ex-IRA man turned property developer Tom McFeely.
A plumber found most of the cash hidden under a bath in the Ballsbridge house.
The new owners were entitled to 5,000 euros (£4,200) but donated it to the woman whose partner took his own life.
Evicted
Stephanie Meehan's partner Fiachra Daly killed himself in July after struggling with financial problems caused by their purchase of a defective apartment built by Mr McFeely's property company.
The Priory Hall apartments in Dublin were deemed uninhabitable due to fire safety concerns.
The couple and their children were among 240 residents who were evicted from the flats in October 2011.
After her partner's suicide, Ms Meehan campaigned for the Irish government to take action and help to compensate Priory Hall residents.
Mr McFeely, who is originally from County Londonderry, is now bankrupt and his estate is being managed by a court-appointed official, Chris Lehane.
On Monday, Mr Lehane asked Dublin High Court to release 10,000 euros (£8,400) of the cash recovered from the Ballbridge house to his office, in order to reward the people who found the money.
Reward
Two workmen who discovered the cash are to receive 2,500 euros (£2,100) each.
The homeowners, who bought Mr McFeely's repossessed house on Ailesbury Road, Ballsbridge, were to receive 5,000 euros (£4,200).
However, Mr Lehane told the court that the homeowners had asked that any reward payable to them should be paid instead to Ms Meehan.
Mr McFeely had denied owning the cash found at the house in September and claimed it had been planted there.
But Mr Lehane told the High Court he was satisfied the money was the property of Mr McFeely.
In October, former Priory Hall residents accepted a government-backed deal that will see their debt written off, allowing them to make a fresh start with 100% mortgages to buy other properties.