New Haass proposals revealed to NI political parties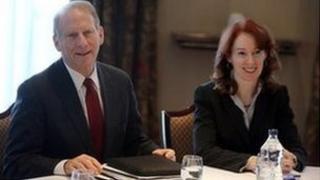 NI's five main parties have received a copy of Richard Haass's latest proposals for resolving the problems of flags, parades and the past.
The parties were given a copy of the updated document on Thursday.
Depending on their reaction, the plan is to hold separate meetings with the parties on Friday morning with a round table meeting in the afternoon.
Dr Haass and his team had been locked away for 36 hours preparing a new version.
After receiving the revised document, members from each of the five main parties spoke briefly to the media on Thursday afternoon.
Culture Minister Carál Ní Chuilín said Sinn Féin were still working towards agreement and would be prepared to work right up to Christmas Eve "if need be".
The SDLP's Alex Attwood described the revised document as a "very substantial piece" of work from Dr Haass and Meghan O'Sullivan.
He said "nobody should rush to judgement about what has been changed".
Speaking for the Democratic Unionist Party, Jeffrey Donaldson MP said some progress had been made in some areas "but there are some silly things in there that need to be taken out".
He said the DUP had reservations about the draft document's proposals "across all three areas".
'Work to do'
Mr Donaldson added that the party "struggled to see the relevance" of some things in the document. but the DUP was "prepared to work as long as it takes."
Ulster Unionist leader Mike Nesbitt said there was "still a lot of work to do".
"We are a long way yet from in, in, in or yes, yes, yes to these issues," he said.
"A lot of people have been taken credit in the last couple of days for having items removed from the first draft of the document, so it is very surprising to see some of the things that are in this draft.
"We need to know who put them in and why, because we don't see them as being for the benefit for the people of Northern Ireland."
He added: "Given the state of this document, maybe we shouldn't get hung up on getting it over the line tomorrow. It may take a little bit longer, but if it does, it's worth the effort and we're up for that."
Alliance MP Naomi Long said her party wanted to acknowledge the "immense amount of effort" that Richard Haass, Meghan O'Sullivan and their team had put into "this process".
"It's clear a lot of work has been done on the document since we saw the initial draft and it's also clear they have spent a lot of time listening to what parties have said and trying to find agreement between them," she said.
"I think it's now time for the parties to match that hard work with our own hard work, and also with our own commitment to deliver an agreement at the end of this process."
The US diplomat's first draft document was rejected by unionists earlier this week.
First Minister Peter Robinson said had it been the final paper, steam would have been coming out of his ears.
Time is running out if his self-imposed deadline for agreement by the end of this week is to be met.
Mr Haass and his team spent Wednesday away from the parties and the media redrafting the proposals.
The new set of ideas may be his final draft and will probably have to be if the Christmas deadline is to be met.
They will give their responses in meetings with the US negotiators over the following 24 hours.