Andrew Lorimer killing: Family 'let down' by DPP decision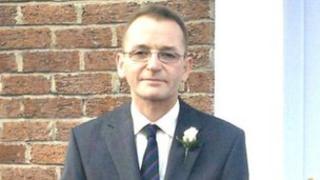 The family of a man beaten to death in Lurgan has been "let down" by the DPP's decision not to appeal against his killers' sentences, an MLA has said.
Andrew Lorimer, 43, was found dead in his flat last year.
In November, two of his killers were jailed for five years each and a third for four years, after admitting his manslaughter.
The DUP has said it is outraged at the decision of the DPP not to appeal against the sentences.
The party's Stephen Moutray, who knew Mr Lorimer, said: "We have been offered a meeting by the DPP in the new year with the Lorimer family. We will be taking that opportunity up.
"The Lorimer family are also taking further legal advice to see if there is anywhere else we can move from here.
"Really the system has left this family down. I visited the Lorimer family yesterday morning - they're in pieces."
Body found by burglar
Mr Lorimer's battered body was found in his Portlec Place flat in February 2012.
The discovery was made by a burglar who, coincidentally, had broken into the property.
In November, two of his killers, Christopher Wright and Richard Chester, were each jailed for five years, while a third man, 20-year-old James Jordan, was jailed for four years.
A spokeswoman from the Lord Chief Justice's Office said: "The defendants were initially charged with murder,but their pleas of guilty to manslaughter were accepted by the prosecution on the grounds that it could not be established that the offenders intended to kill or cause really serious harm to the victim, and they were sentenced on this basis."
She added: "The current sentencing legislation does not permit judges to impose a custodial period in excess of half the total sentence.
"This means that after deciding the determinate custodial sentence for Wright and Chester was 10 years, the judge was not able to impose a custodial period of longer than five years. Similarly, in the case of Jordan he could not impose a custodial period of more than four years."
Mr Moutray said he wanted to see the "whole system to be looked at again".
"I'm not confident at the moment, but we will give it every shot, because this is too important, this is a life and death issue and we will do everything we can to help the Lorimer family."