Translink chief executive Catherine Mason to leave post in March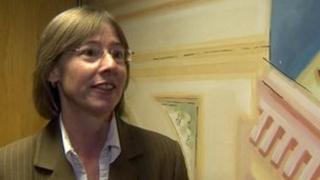 The chief executive of Translink, Catherine Mason, is to leave her post in March.
The position is one of the highest paid in the Northern Ireland public sector with a salary of around £200,000.
Her pay has been the subject of criticism from some MLAs. She inherited record bus and train passenger numbers, which fell during the recession.
But last year the customer base began growing again to more than 78 million journeys annually.
Ms Mason, who joined Translink in 2008, is moving to a job in England with National Air Traffic Service (Nats), the air traffic management service.
She said she was leaving with "genuine sadness."
"I feel huge pride in the success Translink has had during very difficult economic times," she said.
"We have grown passenger numbers and customer satisfaction is very high."