County Antrim woman poisoned daughter with salt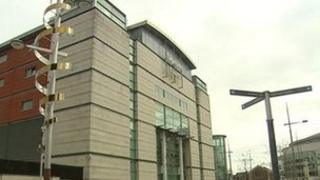 A woman who poisoned her disabled baby daughter by lacing the youngster's food with salt has been given an 18-month jail term suspended for two years.
The County Antrim woman admitted administering poison to her then two-year-old child in January 2010.
The woman cannot be named to protect the identity of her daughter.
A judge told her he could see no benefit to the public, the child or her former partner "to impose an immediate custodial sentence".
He told the 25-year-old that while cases were often described as exceptional, "if ever there was a case that could truly be described as exceptional, this is it".
The judge said her actions on the day were "quite clearly inexplicable", although psychiatric reports tend to suggest that "perhaps subconsciously" she was trying to draw attention to herself following the break-up with her partner.
'Limp and grey'
Earlier, a prosecution lawyer told the court the youngster was rushed to hospital in an almost lifeless state, her body limp and grey, and it was "clear to all she was very sick".
It was quickly established that the little girl was suffering from salt poisoning. This promptly became a matter of concern as the child was not capable of feeding herself.
A defence lawyer described it as a "tragic case for all concerned". He added the woman had always been seen as a caring and devoted mother and the child was "the centre of her life".
He said the prosecution accepted that the administration of the salt was done in a reckless manner and that she did not intend the resulting consequences.
"This was a simple, isolated act, a terrible incident, and the real penalty she will pay is that she will not now be the primary carer of her daughter," he said.