Alert closes streets in Belfast city centre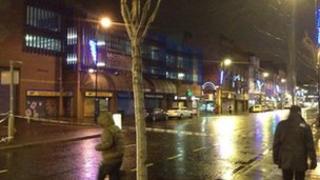 A security alert in Belfast city has come to an end. Police said nothing untoward was found.
Army bomb officers were called to the scene in High Street after reports about a suspicious object.
High Street, Bridge Street and Donegall Street were closed to traffic in the alert which began after 18:00 GMT.
The area around the post office was cordoned off. However, nearby shops and bars beyond the police tape remained open.
Exactly a week ago, on Friday 13 December, dissident republicans left a bomb in a holdall at Exchange Street West. It exploded as the area was being cleared. No-one was hurt.
However, about 1,000 people were affected by the alert which was in one of the main entertainment venues in Belfast.
Dissident republicans were behind that bomb. Police have said they are concerned about attacks from dissident republicans in the run-up to Christmas.