Northern Ireland parties examining Richard Haass proposals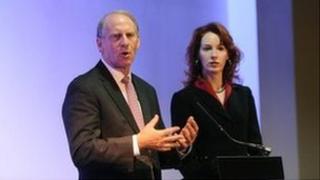 The five Northern Ireland Executive parties have been spending the day examining proposals put forward by Richard Haass on parades, flags and the past.
The former US diplomat and his vice chair Meghan O'Sullivan have asked the parties to submit their responses by early on Sunday.
A new draft paper is to be sent to the parties on Sunday afternoon.
A number of party delegations have held discussions on Saturday.
Dr Haass and Meghan O'Sullivan will host round-table talks on Monday morning.
An earlier draft of the report by Dr Haass was rejected by unionists who had major concerns particularly over the issue of flags.
On Friday, Dr Haass said he would leave "no stone unturned" in an effort to reach an agreement with the parties before Christmas.
"We have made real progress on parades and the past," he said.
"We shall see where we come out on flags," he added, suggesting that this was the sticking point.
Dr Haass said it would be "a real loss" if agreement could not be reached.
"Much progress has been made and much remains to be resolved," he said. "We are getting close to crunch time."
He said it was now up to the parties and "how much they want agreement and how intolerable they find the status quo."