Two released over gun attack on police in Foxes Glen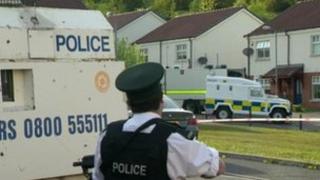 Two men questioned about the attempted murder of three police officers on the outskirts of west Belfast earlier this year have been released.
Up to six shots were fired as the officers got out of their car at Foxes Glen in Twinbrook on 16 May.
They were responding to bogus reports of a burglary in the area. No-one was injured, but a parked car was hit by the gunfire
The two men, aged 20 and 21, were arrested in Lisburn on Friday morning.
They have been released pending a report to the Public Prosecution Service.