Christmas Eve storms: Northern Ireland to face worst of UK weather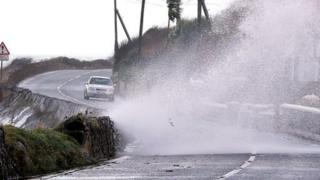 Northern Ireland will face some of the stormiest weather in the UK on Christmas Eve, with gusts of up to 80mph possible.
An amber weather warning - meaning to be prepared - is in place from 03:00 GMT until 14:00, as thousands of people travel home for Christmas.
The Met Office has warned of the "potential for significant disruption to travel due to very strong winds".
Gusts of up to 100kph (62mph) are forecast for the Republic of Ireland.
In Northern Ireland, there is also the possibility of ice, rain and sleet or snow.
There is also a yellow weather warning on Tuesday between 02:00 and 03:00 and from 14:00 until midnight.
Forecasters said conditions would ease off for Christmas Day and Boxing Day.
Northern Ireland Electricity said there would be additional staff brought in to cope with the anticipated storm.
In the Republic of Ireland, Met Éireann has issued an orange wind warning due to a "vigorous Atlantic storm" over the country from late on Monday night.
This means the conditions have the capacity to "impact significantly" and people should be prepared for the conditions.
This warning is valid from midnight on Tuesday until 16:00 GMT on Tuesday.
The highest winds are expected to be in western and northern coastal counties.
Irish Ferries has already cancelled its Jonathan Swift Fast Ferry sailings between Dublin and Holyhead due to adverse conditions on the Irish Sea.
Meanwhile, the Republic of Ireland's electricity supplier, ESB, has said it has plans in place to deal with any power outages caused by stormy weather over Christmas
In Britain, the Met Office has issued amber warnings for rain for Wales, the east of England, south-west England and London and the South East.