Downe and Lagan Valley A&E opening hours reduced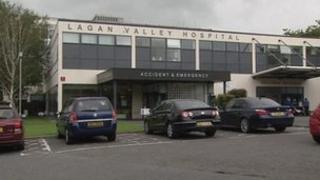 The A&E units at two Northern Ireland hospitals are to close at the weekend "until further notice".
The changes at Downe Hospital, Downpatrick, and Lagan Valley Hospital in Lisburn are to come into effect on Saturday 4 January.
A shortage of suitably qualified emergency doctors is being blamed.
Both A&E units will also operate from 08:00 until 20:00 on week days from the same date.
This represents no change to the Lagan Valley week-day hours, but means the Downe unit will close two hours earlier.
In a statement, the South Eastern Health Trust said it regretted the move.
"This is because the trust has been experiencing critical medical staffing issues for some weeks," it said.
"The weekend service at both hospitals relies heavily on locum doctors, and despite exhaustive efforts by the trust, agencies have been unable to provide sufficient skilled, experienced doctors to sustain the service.
"In addition, existing permanent medical staff have worked numerous additional shifts in an effort to keep the service going, but this is not sustainable."
The trust said existing GP out of hours service at both hospitals would continue and it would work with GPs to minimise the impact of the changes.
It said patients needing emergency care, especially those with sudden and acute illness or severe trauma, should go to the A&E unit at the Ulster Hospital, Dundonald, or their nearest hospital.