Gary Bain 'beat ex-partner with chair leg in drink-fuelled attack'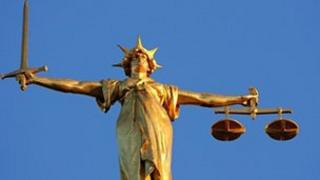 A man allegedly beat his ex-partner with a broken chair leg after being invited to her home for Christmas, Belfast Magistrates' Court has heard.
Gary Bain, 25, is accused of carrying out a drink-fuelled attack in east Belfast before smashing the windows of another woman's nearby house.
He is also accused of grabbing a police officer by the throat and punching him five times.
Mr Bain, with a hostel address in the Antrim Road, Belfast, was refused bail.
He faces two charges of assault occasioning actual bodily harm, three counts of criminal damage and assault on another female officer.
The 25-year-old is further charged with aggravated burglary with intent to inflict grievous bodily harm, possession of an offensive weapon in a public place and with intent to commit an offence.
The court heard how the alleged offences happened in the Madrid Street and Wolff Close areas of the city early on Thursday morning.
Broke windows
Mr Bain is accused of attacking his ex-partner, smashing up a chair and using a leg to hit her again.
A police officer told the court she was left with bruising and an apparent cigarette burn mark on her body.
It was alleged that Mr Bain then moved on to the other woman's house, still carrying the chair leg, and broke windows there.
When police arrived on the scene he resisted arrest, the court heard.
The officer said: "He then assaulted the constable, grabbed him by the throat and punched him five times to the head."
Seeking bail, a defence solicitor accepted his client had taken too much alcohol.
"From CCTV (footage) he's blind drunk," the lawyer said.
District Judge Amanda Henderson was told that Mr Bain could be excluded from east Belfast as part of tight bail conditions.
But, refusing to release him, she said: "I feel there's a very real risk of reoffending in this case."
Mr Bain was remanded in custody to appear again on 24 January.