Ladbrokes offers £10,000 for robbery information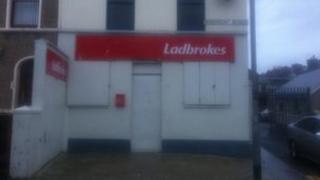 Betting shop chain Ladbrokes has offered a £10,000 reward to help catch those behind a spate of armed robberies in Londonderry.
Five outlets have been targeted in the city in the last two weeks.
A shop on the Lecky Road area of Derry was robbed at around 18:45 GMT on Saturday.
A masked man - armed with a hammer - entered the shop and stole an unknown amount of money. No-one was injured.
Ladbrokes have said that some of its shops will now close early.
"We are focussed on supporting our shop teams and working with the police on this unusual series of robberies," a Ladbrokes spokesperson said.
Sinn Féin MLA Maeve McLaughlin has called for extra police resources in Derry.
"These robberies need to be taken very seriously by the PSNI.
"The police should examine what kind of focus and resources they can put into place to make sure that the people who are carrying out these attacks on local shops and local people are brought to book.
"I am due to meet with the police on Monday."
'Traumatic'
Police have appealed for anyone who noticed anything suspicious in the Lecky Road and Deanery Street areas on Saturday night to contact them.
SDLP Foyle MLA, Mark H Durkan, said the chain of robberies was "hugely concerning".
"This brings the total count of bookmaker robberies in our city to five in the space of a fortnight.
"Those behind each of these incidents have absolutely no regard for the staff working hard to provide for their families over the Christmas period.
"While each incident is deplorable, the chain of robberies is hugely concerning. Not only will it have been traumatic for those directly involved, it also casts a cloud of fear over staff in all bookmakers across the city.
"I would appeal to those behind it to take a step back, realise the effect of what they're doing on ordinary people and stop immediately."