Doris Day praises Willie Nugent's fundraising for dogs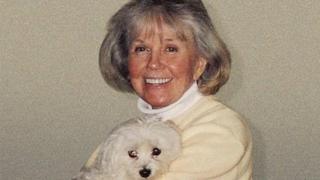 Every dog has its day, they say, but one special Day has had a Northern Ireland dog-lover on her mind.
Hollywood star Doris Day heard about Willie Nugent's fundraising efforts for dog shelters around the world and dropped him a line to thank him for his efforts.
Willie, 65 and from Armagh, has been raising funds for dogs throughout the world for over seven years with his campaign Shaking Paws Around the World.
He has been fundraising since 1979, when he began to raise money for various cancer charities by doing sponsored runs and cycles.
However, seven years ago, Willie, who has had dogs as family pets for "as far back as I can remember", decided it was time to start raising some funds for his four-legged friends.
'Loyal supporter'
Willie, an ardent Doris Day fan, said he was delighted to receive the letter from the celebrity and could not believe that she had heard about his campaign.
"I just couldn't believe it, but it was such a nice surprise to read, and great to know that she was impressed by what I've been doing," he said.
"I love dogs, they are such good companions and they always keep you fit."
In the letter, Doris paid tribute to Willie for his many years of dedicated fundraising and his love for dogs.
"You, Willie, in particular, have been such a loyal supporter and a good friend to the animals. I wanted to personally thank you for your generosity," she said.
"When I say that we couldn't do it without you, I truly mean it."
Companions
Willie's Shaking Paws campaign has seen him visit 21 dog shelters in various countries over the last seven years.
He has shaken paws with dogs in Dublin, London, Russia, America, Barbados, and Israel.
Willie raises money through sponsored swims, cycles and running events and then gives it to dog shelters. He visits each dog shelter to give the money to them, and takes time to shake paws with all the dogs in the shelter as well.
Willie said dogs are "24 hour companions" and that his own dog, a cairn terrier called Maisie, keeps him from ever feeling lonely.
He said: "I take her for walks three times a day, and it's more so for me, I wouldn't get out as much if I didn't have her."
"She keeps me healthy and happy, and as long she gets her treats and a warm bed, she is happy too. Dogs are just great pets because they aren't judgemental and just want love from their owners."
Willie plans to travel to the Doris Day Animal Foundation Shelter in California and shake paws with some of the dogs who live there.
He has no plans to stop fundraising, and said he has plenty of events planned for 2014.
"I'm planning a lot of sponsored fun runs and cycles to raise money for the animals, and maybe someday soon I will get to visit the Doris Day shelter and shake some American paws," he said.
"I might even get a chance to meet Doris if she happens to be there when I visit."