Terry Bradley paintings 'stolen to order' in Belfast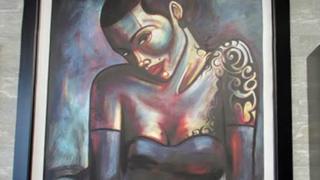 Two original paintings by Belfast-born artist Terry Bradley have been stolen in south Belfast.
The break-in happened at Soaks Bathroom showroom on Apollo Road at about 21:00 GMT on Monday.
Police said the premises had been forcibly entered. The paintings are said to be worth about £6,000 each.
The director of Soaks Bathrooms, Wayne Lyons, said he believed the paintings had been stolen to order.
"The burglars were in and out in under a minute. The police were there in five minutes.
"The paintings were in the showroom and whoever had been coming to steal them had that in mind and went straight for them."
He appealed for anyone who came across the paintings to tell the police.
"They are very unique. If anybody does see them or does know of where they are, we would really appreciate if they did contact the police."