Guilty pleas over handgun find in Omagh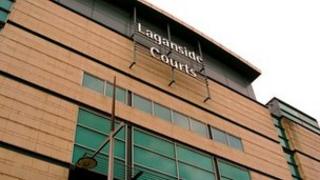 Four men who were in a car in a which a gun was found will be sentenced on Friday after they were convicted of firearms offences.
They are Darryn Patrick McCallion and Martin McLoone from Londonderry, and Daniel John Turnbull and Mark McGuigan from Omagh, County Tyrone.
They were arrested when police found a handgun in their car outside Omagh in 2010.
McGuigan was found guilty at his trial last November and the other three pleaded guilty in Belfast on Monday.
'Terrorism'
Twenty-five-year old disc jockey McCallion, of Rathlin Drive, Derry; Martin McLoone, also 25, of Abercorn Drive in the city; and 33-year-old Turnbull each admitted possession of a firearm with intent on 11 October, 2010 during the hearing at Belfast Crown Court.
Turnbull, of Strule Park, Omagh, also pleaded guilty to a further count on the same date of possessing articles likely to be used in terrorism.
McGuigan, 29, of Sperrin View, Omagh, has already been convicted of possessing a firearm with intent and possessing a firearm and ammunition in suspicious circumstances.
Belfast Crown Court was told that the gun was found when uniformed officers stopped a Ford Fiesta car on the Gorticashel Road outside Omagh.
The court heard McGuigan was driving the car, which was registered to his mother, and tried to reverse, causing a minor collision with the police car.
"The driver's window was broken by police with the butt of a rifle," a prosecution lawyer said.
The judge was told that Turnbull was the front seat passenger and that rear seats of the car were laid down flat.
Gun in sock
McCallion and McLoone were sitting in the rear of the vehicle.
The prosecution lawyer said that during a search of the vehicle, police found a green Celtic holdall and inside was a loaded .38 Webley revolver, concealed inside a sock.
"This weapon had been deactivated in 2003 but had subsequently been reactivated to fire .22 rifle cartridges.
"The firing pin had been bent which meant it could not strike the rifle cartridge and could not fire a cartridge," the lawyer added.
However, prosecuting counsel said a forensics expert said it would have required only a "minor adjustment" to the firing pin for the gun to fire.
He added: "There was firearms residue on the revolver, which showed it had been able to fire previously."
The court heard that inside a second sock was a quantity of ammunition, including 13 rounds of .22 rifle cartridges and 20 rounds of 9 x 19mm calibre cartridges.
'Kidnapped'
When cautioned at the scene, Turnbull told police: "I want to speak to my solicitor."
Following the seizure of the Webley revolver, he replied: "That's the first time I have seen that."
McCallion replied after caution: "I don't know anything about it."
The Crown lawyer said McCallion later claimed that he had been kidnapped by the other three and believed he was being taken away to be shot as a "punishment" for drug dealing.
McLoone told police at the scene that he was "going to a republican meeting." Asked about the gun, he replied: "I didn't know it was there."
The court heard that during follow-up searches, police found a sledgehammer inside a black Vauxhall Corsa car in Dava Forest.
Sub-machinegun
The court was told that the car was bought some days before by McCallion.
The following day, on 12 October 2010, police carried out a search at Mill Cottages in Greencastle, County Tyrone, and found a Renault Clio car belonging to Darren Turnbull parked outside.
Inside the car, officers found a sub-machinegun and magazine along with 42 .22 calibre cartridges.
The court was told that the search of the Clio also uncovered three sets of ballistic body armour, latex gloves, ear defenders and combat clothing.
Following defence submissions for the four accused of possessing the Webley revolver, the judge said she was adjourning sentence until Friday 10 January.
All four men were remanded in custody.