Ryan Milligan: The truck driver turned Nasa astrophysicist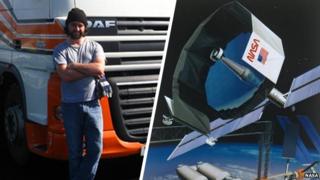 Ryan Milligan once drove trucks on the roads of County Down. Now, as a doctor of astrophysics, he can be found at the heart of Nasa's Goddard Space Flight centre near Washington DC.
Dr Milligan reflects on his remarkable journey from truck driver to accomplished astrophysicist:
"Who knew the open road could one day lead to outer space?"
Dr Milligan says his fascination with space began when he was a child living in Ardglass, County Down.
"The clear night skies were ideal for stargazing and when I was 11, I got to witness Halley's Comet. The thought of it looping the solar system every 76 years really fascinated me."
After high school, Dr Milligan had a number of manual labour jobs, and at the age of 21 began driving trucks for a living.
It was not until he was 23 that he decided to enrol in an astrophysics degree course - and eventually a PhD program at Queen's University Belfast to learn more about astronomy and space science.
"I kept up truck driving at nights and weekends for the whole nine years of my studies to help pay the bills," he says.
"It was during my PhD that I was offered the chance to work at Nasa's Goddard Space Flight Centre outside Washington DC for a summer. This eventually led to a full time job and I've now been working there, off and on, for 10 years."
Working for Nasa
Dr Milligan's primary role at Nasa is to analyse data from the Solar Dynamics Observatory (SDO); Nasa's flagship mission to study the effects of the sun's behaviour on the earth's atmosphere.
"I'm particularly interested in understanding how the sun produces excessive amounts of ultraviolet radiation during solar flares. This radiation is responsible for generating changes in our own atmosphere that can affect radio transmission, GPS accuracy, and the orbit of satellites.
"As SDO only observes one particular component of the sun's radiation, we often need data from a number of other solar spacecraft to piece together the various parts of the puzzle. Obtaining these simultaneous observations can often be a great challenge."
For Dr Milligan, his work with Nasa extends beyond collaborating with some of the world's leading experts on solar activity. It also provides a great opportunity for students in Belfast.
"I am also now in a position to bring a new generation of students from Queen's over to the US so that they can benefit from the same experiences that I have had. This maintains a strong bond between Nasa and Queen's University."
Stargazing LIVE
Dr Milligan spoke of his enthusiasm at the prospect of contributing to BBC Stargazing LIVE.
"I am extremely honoured to be invited to take part in such a nationwide celebration of the night (and day) sky. The Stargazing Live series has gone from strength to strength and it's great to see the public take such an interest in something that my colleagues and I are so passionate about.
"It offers us a great opportunity to share that enthusiasm, and to teach both kids and adults about the wonders of space, and to demonstrate that Northern Ireland is playing a key role in its exploration."
So just what role is Northern Ireland playing?
Dr Milligan considers Northern Ireland to be a centre of excellence for space science and astronomy.
"The staff at Queen's University and Armagh Observatory include some of the world's leading experts on comets and asteroids, supernovae, and solar and stellar astrophysics, and both institutions have contributed greatly to their respective fields," he says.
Dr Milligan believes Northern Ireland has had huge successes on the world stage and points to the partnership between the Astrophysics Research Centre at Queen's University and Andor Technologies as an example of this.
"This partnership has led to the development of the fastest and most sensitive digital cameras used in astronomical research in the world, whether it's for imaging sunspots or searching for planets around other stars," he says.
"As such, these cameras are now highly sought after by institutes across the globe that are responsible for building the next generation of telescopes."
Space qualification
Eleanore Thomas, an education manager at Northern Ireland's examination board CCEA, believes a new qualification introduced last September is further evidence that Northern Ireland has a bright future in the space industry.
"The CCEA Level 2 Space Science Technology qualification is the first of its kind.
"It was introduced as a response to the call for more emphasis to be put on providing young people with innovating and challenging opportunities to build their skills in Stem-related activities," she says.
"It was developed with the Northern Ireland economy and in particular the NI space industry in mind."
Ms Thomas says a space special interest group has been set up to support Northern Ireland's young but burgeoning industry.
"We already have companies that are contributing towards the development of space technologies," she says.
"We need to develop the skills of our young people to help Northern Ireland compete in a very lucrative but highly competitive global market."
Space research
For Dr Milligan it's not just the Nasa projects he is involved with, but being part of the widespread work of space research which is particularly rewarding.
"The project I'm really excited about this year is the European Space Agency (ESA)'s Rosetta mission," he says.
"Rosetta was launched in 2004 and has spent the past 10 years making its way to the outer solar system, past the asteroid belt, to rendezvous with Comet 67P/Churyumov-Gerasimenko, which it will reach in August.
"In November it will attach a lander, called Philea, to the surface of the comet which will allow changes in the comet's behaviour to be measured as it makes its way inwards towards the sun and begins to heat up."
Dr Milligan says this is the first time a mission of this scale has ever been attempted, and if successful, promises to deliver important clues about the origin of the solar system.
The future
Given the journey he has made so far, it is understandable that Dr Milligan is excited about his future in the space industry.
So what advice would he give for young people considering a career in a Stem subject?
"Keep an open mind: science is one of the most exciting and rewarding careers out there. Ask questions, talk to scientists, ask them about their work, do summer placements.
"If a lorry driver from Ardglass can end up working for Nasa, then the possibilities are endless."
The BBC's Stargazing LIVE event is at Ulster Folk and Transport Museum, 9 January, 17:00 - 22:00 GMT