Stolen Terry Bradley paintings found near Belfast shop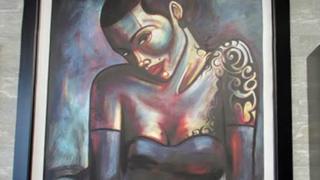 Two original paintings by Belfast-born artist Terry Bradley that had been stolen from a shop in the south of the city have been recovered.
The break-in happened at Soaks Bathroom showroom on Apollo Road at about 21:00 GMT on 30 December.
The paintings, worth about £6,000 each, have been found in a unlocked storeroom nearby.
The director of Soaks Bathrooms, Wayne Lyons, said police had received a tip-off about where the paintings were.
"When they stole them, they must have stored them in the premises around the corner from us, awaiting to collect them at another time," he said.
"The police got a tip-off where they were, due to all the press the thieves must have thought they were too risky to handle or sell on. They are damaged, however this is great news.
''The Terry Bradley paintings were very valuable to us as they were in a very prominent position in the showroom, we are so pleased that the good work of the PSNI and the press has resulted in the return of the paintings to us.
"Terry Bradley himself called into our showroom last week as he had heard the story in the news, he was very kind by offering to work with us to have new paintings installed to replace the stolen ones.''
After the theft, Mr Lyons said the thieves had been "in and out in under a minute".
He said he believed they had been stolen to order.