HET: Four officers leave specialist police team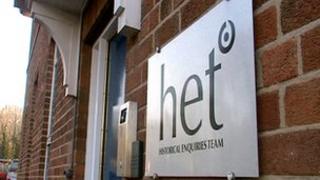 Four senior investigating officers have left the Historical Enquiries Team (HET) which investigates unresolved killings during the Troubles.
The Police Service of Northern Ireland confirmed their departures but said the main body of investigators remained.
They are understood to have resigned just before Christmas.
The PSNI statement said: "We are committed to ensuring HET has suitably skilled staff who will support criminal justice reviews."
Last year, the head of the HET, Dave Cox, and its director of military operations, Paul Johnston, both left following a highly critical inspection report.
The HET is a specialist police team set up to re-examine 3,260 killings during the Troubles in Northern Ireland.
BBC Northern Ireland Home Affairs Correspondent Vincent Kearney said a question mark hangs over the future of the HET following the inspection report.
He said the four officers who left had been part of a number brought over from England to "ensure independence of investigations".
He added: "The way they tend to operate is on fairly short-term contracts. They tend to lease accommodation on a six or 12-month basis. They also book flights back home to England well in advance.
"Because of this controversy and criticism and the uncertainly surrounding the future of the team, many of those officers were reluctant to enter into lease agreements because they simply didn't know what the future of the HET entails.
"So in a sense, these resignations were expected."