Late loyalist protest in Belfast breaches parade ruling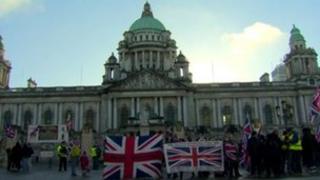 A loyalist protest in central Belfast has passed without major incident but began over an hour late, in breach of a Parades Commission determination.
The Parades Commission ruled that the protesters had to leave the area around Belfast City Hall by noon, but they did not move off until after 13:00 GMT.
It was organised by a group calling itself Loyal Peaceful Protesters and about 300 people took part.
Police said any breaches of parade determinations would be investigated.
After moving off from Belfast City Hall, the protesters walked to the Crumlin Road, where their path was blocked by police.
There, the demonstration was addressed by victims' campaigner Willie Frazer before the protesters dispersed.
In their application to the Parades Commission, the organisers said the purpose of the demonstration was to highlight concerns over flags, civil rights, loyalist prisoners and to protest against "police brutality" and "political policing".
Since December 2012, loyalists have staged a series of street protests against a council decision to limit the number of days the union flag is flown at Belfast City Hall.
Some of the previous demonstrations have resulted in serious public disorder.