Dublin baby: Court order granted to switch off life support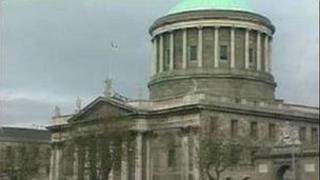 A maternity hospital in Dublin has been granted a High Court order to withdraw life support from a new born baby boy who suffered severe brain damage.
He was born on Wednesday and his young mother died shortly after delivering him.
The order was granted at a special court sitting on Wednesday night.
The baby's mother was 39 weeks pregnant and had gone into cardiac arrest. She had to be resuscitated and the boy was born by Caesarean section.
The mother died shortly afterwards.
Her baby was not breathing and needed artificial ventilation. He is on a ventilator and heart support. The court heard that the baby has only a 10% chance of surviving more than 28 days.
The court was told if he survives, he will be severely and profoundly physically and mentally disabled, unable to move or swallow, requiring life-long care.
The baby's parents are both Irish. His father and his maternal grandmother consented to the withdrawal of the life-sustaining treatments.
However, as the child's parents were not married and his mother was his sole legal guardian, the hospital needed a court order.