Ian Paisley discharged from Ulster Hospital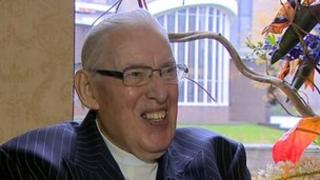 Northern Ireland's former first minister Ian Paisley has been discharged from hospital.
The 87-year-old was admitted shortly after Christmas to the Ulster Hospital for what his family said were necessary tests.
It is understood he was discharged from the hospital in Dundonald on Wednesday.
In February 2012, Mr Paisley, now Lord Bannside, spent a week on a life support machine suffering from heart failure.
He later returned to public life after recovering.
In October 2012, he led a service outside his church in east Belfast, Martyrs' Memorial, in memory of the unionist leader Lord Edward Carson.
He stood down as Northern Ireland's first minister in 2008 and ended 60 years of full-time ministry in January 2012.
In addition to co-founding the DUP and leading it from 1971 to 2008, he is a founding member and was moderator of the Free Presbyterian Church from 1951 to 2008.