Bombardier C-Series wins SaudiGulf order but delays launch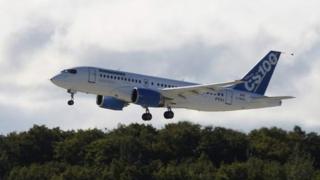 A Saudi Arabian airline has agreed to buy 16 aircraft from Canadian-based Bombardier in a £733m deal.
Wings for the firm's C-series aircraft are made at Queen's Island in east Belfast.
Newly-launched carrier SaudiGulf Airlines also has an option to buy 10 more single-aisle planes from Bombardier.
It comes as Bombardier announced the launch of the model was pushed back to the second half of 2015.
The first C-Series jetliner was originally scheduled to be delivered to customers in September, but the firm said it needed more testing.
"Based on the thorough review of the CSeries program after the first flight of the CS100 on September 16, 2013, the flight test phase will require more time than originally anticipated to ensure, amongst other things, that the aircraft has the overall system maturity to support a successful entry-into-service," the Montreal-based company said in a statement.
While the delay will have no immediate impact on its Belfast operation, it is thought it might mean a slowdown in its recruitment plans
The Canadian company, which has a long-term presence in Belfast, has over recent years been rolling out a £520m investment in its facilities in the city.
The C-Series aircraft is Bombardier's contender in the 100-200 seat narrow-body, or single-aisle, market dominated by Airbus's A320 and Boeing's 737.
Its wings are made using carbon-fibre composite technology developed by Bombardier engineers in Northern Ireland.
This technology enables material and aircraft weight savings, which reduces manufacturing times and fuel used.