Haass talks: Obama and Cameron discuss Northern Ireland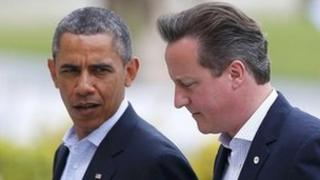 The US president and the British prime minister have discussed the outcome of the Haass talks in Northern Ireland during a wide-ranging phone call.
Barack Obama and David Cameron both acknowledged the effort Dr Richard Haass made in his attempt to broker a deal, according to Downing Street.
Dr Haass led talks to resolve remaining problems in the NI peace process.
Downing St said Mr Cameron and Mr Obama agreed that responsibility on finding a way forward lies with NI's leaders.
The prime minister and the president spoke about recent developments in Northern Ireland during a telephone conversation on Thursday afternoon.
'Difficult issues'
Their discussion also covered Syria, Afghanistan and the United States' review of intelligence programmes.
A spokesperson for Number 10 said: "On Northern Ireland, the prime minister and president acknowledged Richard Haass' very considerable efforts over recent months to encourage all sides in Northern Ireland to reach agreement on a range of difficult issues.
"Responsibility for finding a way forward continues to lie with political leaders in Northern Ireland, and the UK and US governments will continue to support and encourage this process."
A spokesperson for the United States' National Security Agency (NSA) said President Obama had spoken to Mr Cameron "as part of their ongoing consultations on shared security challenges and advancing the special relationship".
They said the US and UK leaders had "stressed the need for Northern Ireland's political parties to agree to concrete next steps on the Haass proposals, implement the Building a United Community initiative, and more broadly, continue to advance progress on the peace process in Northern Ireland".
'US deadline'
Meanwhile, Northern Ireland's Deputy First Minister Martin McGuinness has said he believes the US government has a deadline in mind for the ongoing political negotiations linked to the Haass talks.
Mr McGuinness told BBC Northern Ireland programme The View: "I'll tell you what I think the Americans' deadline is - this needs to be done before St Patrick's Day, as far as they are concerned.
"Every year we are invited to the White House to meet with the president, they've taken a huge interest," he added.
The Sinn Féin representative said that Northern Ireland has been "hugely successful over the course of the last two or three years" in attracting foreign direct investment, much of it from businesses in the United States.
"I don't have any doubts whatsoever that their focus is very much on what is happening here at the moment," he added.
Dr Richard Haass is an American diplomat who served as US envoy to Northern Ireland from 2001 to 2003.
Last September, he returned to Belfast to chair months of intensive talks, in a bid to reach all-party agreement on disputes over flags, parades and dealing with the legacy of Northern Ireland's violent past.
The Haass talks broke up without a deal on New Year's Eve.
Informed sources have told the BBC that during the final days in December, both President Obama and US Vice President Joe Biden had been getting regular briefings on the state of the negotiations.
Vice-President Biden rang Northern Ireland's First Minister Peter Robinson on 29 December, urging him to reach an agreement.