Mivan job losses: 98 workers redundant at Antrim firm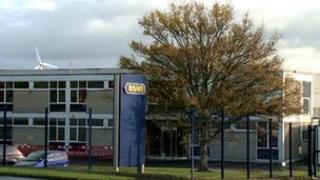 Ninety-eight workers at the County Antrim construction firm, Mivan, have been made redundant.
It is about one third of the workforce at the company which was placed into administration last week.
It is understood that the jobs have been lost across the company after some clients cancelled contracts.
The firm is trading and the remainder of the staff will be back at work on Monday, as the administrator seeks a buyer for some or all of the business.
It is understood there have been several expressions of interest from potential purchasers.
Peter Allen of the administrator, Deloitte, said: "While we hope to achieve a potential sale of the business, we are reviewing trading on a daily basis and this includes the employment situation.
"Where customers can no longer continue with contracts, the jobs associated with these contracts have, unfortunately, been lost.
"We would like to thank the company's employees for their support and professionalism during this time."
The company specialises in fitting out cruise ships and high-end commercial and residential developments.
Mivan made massive losses on projects in Romania, which led to a restructuring of the business in 2012.
However, it continued to face problems and late last year, it entered talks with Lagan Group Holdings about a possible takeover deal, but the discussions ended without agreement.