Ulster Bank: IBOA union raises fears over jobs and pay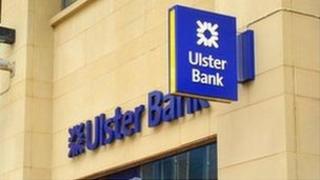 A union which represents bank workers has said it fears Ulster Bank could be preparing to announce job losses.
The Irish Bank Officials' Association (IBOA wrote to its members on Friday warning that a review of the bank's operations could have major implications for employees.
It is concerned it could mean compulsory job cuts, reductions to pay and more branch closures.
Details of the bank's plans will not become clear until next month.
Ulster Bank is due to announce its annual results in February.
In November, Ulster Bank's parent company RBS said it was committed to operating across the island of Ireland.
But the bank announced a review which it said was aimed at finding a "viable and sustainable business model" following years of heavy losses.
That implied some more unpleasant news for staff and their trade union now seems to be preparing for the worst.
In recent years, Ulster has been the weakest part of RBS, which is majority owned by the UK taxpayer after it had to be bailed out in 2008.