Danske Bank survey: Surge in NI consumer confidence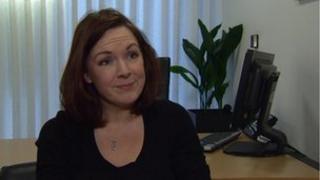 Consumer confidence in Northern Ireland is at a record high, according to new research for Danske Bank.
Its survey of 1,000 people looks at the financial position of households in Northern Ireland.
It reports a "surge" in confidence, with consumers "much less apprehensive" about their financial future.
"There is a definite sense the worst is behind us," said the bank's chief economist Angela McGowan.
The bank said consumer confidence is at the highest level since records began in September 2008.
'Better off'
However, it found confidence was linked to employment.
"For those in full-time jobs the financial stresses appear to be significantly less relative to other households," Ms McGowan said.
While 21% of high income households said they felt they are better off now relative to last year, only 7% of low income households felt the same.
Overall, one third of those surveyed felt worse off, while 51% felt no change.
Separate research has found that the number of Northern Ireland's businesses in "significant" financial distress increased slightly between quarters three and four in 2013.
'Harsh'
The report was commissioned by company rescue and recovery specialist Begbies Traynor.
The 'Red Flag Alert' shows 3,643 firms in financial distress, up from 3,581.
Joan Houston, Begbies Traynor partner based in Belfast, said the Northern Ireland business environment has been "harsh" but signs of stabilisation were becoming clear.
She said there was room for optimism particularly in manufacturing, travel and tourism, and food production.