Apprentice winner Leah Totton launches business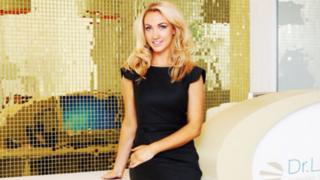 Wednesday's date - 22 January - marks a special day for Londonderry woman Leah Totton, because not only is it her 26th birthday, but it also marks the official opening of her first cosmetic clinic.
Last June, The Apprentice star secured a £250,000 investment from Lord Alan Sugar to start up her own business, after beating 15 other contestants to become the ninth winner of the show.
Her first clinic opens in London on Tuesday morning, and Leah said it was the most "fantastic birthday present".
"The last six months have been absolutely hectic. I continued to work full-time for the NHS until August, and then I took up a full-time position with Lord Sugar so it became quite difficult to balance both," she said.
"I've been working full-time with him to build the business, and I couldn't imagine how difficult it was going to be, and to be honest I had no idea just how much my life would change.
"It's been a stressful six months but fantastic too, I feel so lucky."
Relocation
Despite winning a popular reality show, Leah has remained focussed on building her business and has steered clear of the spotlight.
She said she did not go on the show to get famous and wanted to establish herself as a credible businesswoman.
"Post-show I was very keen to concentrate on the business. I've stayed away from all of the VIP parties and events and I have been working lots of long hours, almost every hour of every day just to get the clinic perfect," she said.
However, despite being given the opportunity of a lifetime, it has not come without sacrifice as Leah has relocated permanently to London.
She said: "I'm still very much a Derry girl. I was home over Christmas for 10 days, which was absolutely fantastic. The support I've had in the city and from the province as a whole is really unbelievable.
"It's been a huge year for Derry with the City of Culture, so being back home was just amazing. There were literally people in the street congratulating me, which was lovely - that's a side of fame I don't mind."
Leah's sister, Jodie, has joined the business and is working in the clinic as a receptionist.
Leah said she is grateful to her sister for both the professional and emotional support.
'Perfectionist'
Although Lord Sugar is not attending the launch as he is in Florida, Leah said he has been very supportive of her throughout the business process.
"He is how he appears on the show. He's very direct and someone I have great respect for and admire tremendously," she said.
"He's been very involved, much more so than I thought he would be and I speak to him almost daily. When I was choosing the premises for the clinic, he physically walked around London looking at premises with me until we picked one."
Instead, Karren Brady, one of the other mentors on The Apprentice, will be at Leah's side at the launch and Leah is delighted to have Karren's support.
Leah admits she is nervous about being at the helm of the business and is anxious about how it will all go.
She said: "Obviously I'm not going to lie, I am excited but there is an element of nervousness there and I am apprehensive about it.
"I'm such a perfectionist and I just want to make sure everything is exactly how I want it to be, so fingers crossed everything will be perfect."
Vocation
Although the young doctor has found success in a short space of time, Leah admits that she has had to work very hard and continues to pull all-nighters.
She said she has found it tough to move from being a doctor into working in business.
"Giving up my full-time NHS post is probably the hardest thing I've ever done. It was a huge sacrifice and it broke my heart to leave, and so I still do one day a week in A&E," she said.
"It's so busy but I've always looked at my medical career as a vocation, it wasn't something I was willing to give up completely.
"After the show I had a frank discussion with Lord Sugar and explained I still wanted to continue working as a doctor, and he was very understanding and willing to let me do it."
However, she said running a business alone is far from easy.
She said: "You have to do your research and have a core knowledge about the sector you're working in. You also need to be able to put in the hours because it doesn't come easy - I can vouch for that.
"Most importantly, you have to believe in what you're doing. I completely believe that I can bring a genuine change to the industry I'm working in.
"You need that belief in what you're doing to drive you on when you're pulling the all-nighters!"