Seventeen men cleared of unlawful protest at Ardoyne parade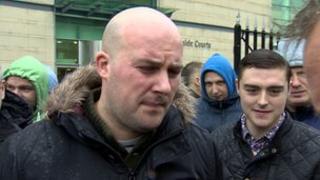 Seventeen men have been cleared of a charge of staging an unlawful protest in north Belfast.
The men had been accused of holding an un-notified protest outside Ardoyne shops during an Apprentice Boys parade on 1 December 2012.
But at Belfast Magistrates Court on Tuesday, a judge found that the prosecution evidence was insufficient.
The men, 10 from Belfast's Ardoyne, five from Rasharkin and two from Ballymena, were all acquitted.
The defendants have now said they will sue the police and the Public Prosecution Service for allegedly breaching their right to assembly.
The case against the men was that their actions during the parade amounted to a breach of public processions legislation.
Even though no placards or signs were on display, a prosecution lawyer contended that by lining up and facing the road they were staging a form of demonstration.
The court heard that only members of the Crumlin Ardoyne Residents Association (Cara) had notified the Parades Commission of plans to stage a protest in the area.
The accused men from Belfast were: Paul Carson, 49, and Aidan Ferguson, 33, both of Highbury Gardens; Damien Fennell, 31, of Duneden Park; Gerard Lagan, 52, of Butler Walk; Peter Lagan, 53, of Jamaica Street; Daniel Lundy, 32, of Russell Place; Joseph Montgomery, 19, and Joseph Jude Montgomery, 45, of Rosehead; Kevin Clarke, 34, of Saunderson Court; and James Osborne, 20, of Prospect Park.
The men from Rasharkin were: Kevin Collins, 35, of Church Fields; Daniel Doherty, 21, and John Doherty, 28, of Bamford Park; Sean Hanna, 50 and Brendan Kelly, 21, both of Carnfinton Park.
Also in court were Anthony Lee, 38, and Micheal McLaughlan, 52, both of Fisherwick Crescent, Ballymena.
Cheering
A prosecution lawyer said some of the men were recognised by police as having previously been at the scene with a separate organisation: the Greater Ardoyne Residents Collective (Garc).
He argued that their behaviour, while silent and peaceful, was still a form of protest. Some of the defendants told police they were waiting for a bus, but failed to board one when it stopped at the scene, the court was told.
Video footage was played in court as part of the defence case as the men's lawyers argued that they were entitled to stand on a footpath and observe the parade.
All 17 men declined to give any evidence at the hearing.
They were acquitted after the judge held that guilt had not been established beyond all reasonable doubt and the charges were dismissed.
There was clapping and cheering in court.
Garc spokesman Dee Fennell said: "There was absolutely no evidence, as is clear from the video, of any protest of any shape or form."
Mr Fennell said Garc sent residents to the road as observers, to establish if any of the Parade Commission's determinations were being breached by the Apprentice Boys.
He said each of the 17 men would be taking a civil case against the PSNI and the Public Prosecution Service.
"This trial was an attempt to impinge on our human right to assembly in our area," he said.