Haass blueprint: Leaders hold another round of talks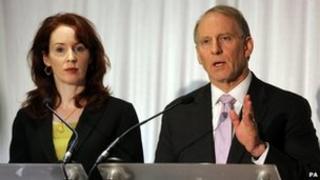 The leaders of the five Executive parties have held another round of discussions on proposals put forward by former US diplomat Richard Haass.
The talks, chaired by Dr Richard Haass and Prof Meghan O'Sullivan, broke up without a deal on New Year's Eve.
Sinn Féin and the SDLP endorsed the proposals, but the DUP, UUP and Alliance have, so far, rejected elements of the Haass blueprint.
On Tuesday, the leaders of Northern Ireland's main parties met at Stormont.
Speaking afterwards, SDLP leader Alasdair McDonnell said he was "heartened" by the latest round of political discussions on flags, parades and the past.
Dr McDonnell said he felt there was "enough elbow room to move forward".
"We are all coming from different positions, we all have different political pressures, we all have different needs," he said.
"We recognise other people's difficulties, but there is the space to build a bridge."
Intensive talks
Dr Haass is an American diplomat who served as US envoy to Northern Ireland from 2001 to 2003.
Last September, he returned to Belfast to chair months of intensive talks, in a bid to reach all-party agreement on disputes over flags, parades and dealing with the legacy of Northern Ireland's violent past.
The talks broke up without a deal on 31 December.
Last week, Northern Ireland's five main parties met for the first time since the end of the negotiations.
Afterwards, Sinn Féin's Martin McGuinness accused unionists of "dancing to the tune of extremists" in not agreeing to the proposals.
In response, DUP leader Peter Robinson accused Mr McGuinness of talking like he was "a dictator".