New cancer research jobs with funding boost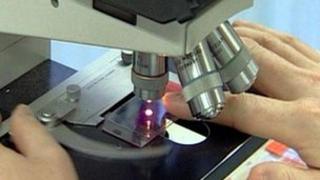 A number of new cancer research posts will be created in Northern Ireland thanks to an investment of almost £1m.
The money will help boost medical research trials involving patients over the next three years.
It will fund a number of posts including a clinical research nurse, a research radiographer and data manager.
The investment comes from Friends of the Cancer Centre, based at Belfast City Hospital, in partnership with Queen's University Belfast researchers.
The charity's chief executive, Colleen Shaw, said: "This is not a donation in our eyes; this is a financial investment in the future of local cancer research and in the future of cancer care in Northern Ireland.
"Northern Ireland has become a world leader in cancer care, and the cancer centre at Belfast City Hospital provides the highest level of treatment available.
"Northern Ireland, through the team at Centre for Cancer Research and Cell Biology (CCRCB), has been at the forefront of the drive to find the latest and best ways to treat all kinds of cancer and clinical trials have become a vital weapon in this."
CCRCB director Professor David Waugh said the funding was hugely important.
"It permits us to increase the capacity of specialist staff we need to implement these world-leading and life-changing clinical trials," he said.
"We have been at the forefront of some of the most ambitious and ground-breaking research in recent years, and some of our own trials have been adopted by leading cancer centres across the UK and Europe.
"We can now continue to drive this transition to become an internationally-recognised leader in individualised cancer treatment, with research born in Belfast, led by Belfast."
Professor Joe O'Sullivan, consultant clinical oncologist, said: "I see people every day who are faced with a life-changing diagnosis and whilst for many the outlook is good with treatment, others need major improvements in our currently available treatment options.
"This is where clinical trials come in. I have seen first-hand how a trial can impact and often improve a patient's outlook.
"This is very exciting for me as a consultant, especially when the trial is home grown and developed in Belfast, but most importantly this can be life changing and indeed lifesaving for the patient."
Friends of the Cancer Centre is one of the leading cancer charities in Northern Ireland.