NI unemployment falls for 11th consecutive month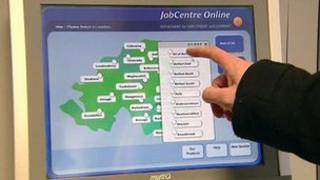 The number of people claiming the dole in Northern Ireland has fallen for an 11th month in a row.
Figures for December show a drop of 600 in the number of people claiming unemployment-related benefits. The total now stands at 59,500.
The NI jobless rate remains unchanged at 7.3%. The UK average is now 7.1%.
Other economic data published on Wednesday shows increased output in the services, production and construction sectors in NI.
'Positive signs'
Figures from the Index of Services showed an increase of 1.4% over the third quarter of last year, while the increase in the production sector output was 4.3%.
Northern Ireland's beleaguered construction sector grew by 2.4% but is still much smaller than it was as far back as 2005.
Economy minister Arlene Foster said: "We have consistently been seeing positive signs of growth in the local economy from a range of economic data, including from recent research by the Danske Bank which suggested that consumer confidence locally is now at a record high."
"Undoubtedly this increase in consumer sentiment is linked to the wider improvement seen across the economy, with many people in employment now less apprehensive about their financial future."
However, she added: "While economic optimism is on the rise this is not a time for complacency, and it remains as important as ever that we continue to build on the progress to date by expanding our existing markets and seeking opportunities overseas."