Girl 'raped every time she visited her father'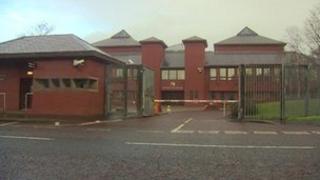 A young girl was raped every time she stayed at her father's house, a court in County Londonderry has heard.
The alleged victim also told Coleraine Crown Court that her father and uncle occasionally took turns to rape her, sometimes recording the abuse on video.
The allegations came on day two of the trial of three men accused of sexually abusing two siblings during the 1990s.
They allege they were abused by their father, uncle and a family friend, who cannot be named for legal reasons.
The alleged victims are a brother and sister from Northern Ireland.
On day two of the trial, the defence completed its cross-examination of the alleged male victim.
A defence lawyer asked him why he had not made a full disclosure of the abuse to social services in 1997.
The witness replied it had become obvious to him that a social worker he had spoken to did not believe his claims.
His sister then took the witness stand for the first time on Wednesday.
The alleged female victim said the abuse started when she was six years old when her father would come into her room, get into bed with her and carry out sexual acts.
She said: "He told me I was special and he loved me more than my brothers.
"He said it was things fathers and daughters did and no-one talked about it."
'Scared'
The witness went on to say the abuse became more regular over time and her father became more physically abusive towards her.
"I was scared of him, I loved him too, but I was scared of him," she told the court.
She said the sexual abuse took place during the day, and at night, and on one occasion she was even taken out of school by her father and told to perform a sexual act.
She claimed in court, that at the age of 10, her father told her he had a Christmas present for her and told her to go into a bedroom and take off her clothes.
She described then being raped by her father after which she claims he kicked her on the ground and cracked her ribs.
The alleged victim said after her parents' marriage broke-up and they were separated, her father would rape her every time she visited him, sometimes more than once.
She also described how her father would invite groups of men to parties at his house.
She claimed groups as large as eight or nine would watch pornography at the parties and then take turns to rape her.
She told the court: "Once I tried to run out of the house naked, but I couldn't open the front door before he (her father) grabbed me.
"He punched me, choked me and hit me with a belt."
The alleged victim said the men would also stub out cigarettes on her back and stomach and she said her father called her "his ash tray".
She told the court that her father had continued to abuse her on a frequent basis over the next eight years.
The witness also described how her father and uncle would film themselves taking turns to rape her and then make her watch it.
Her brother also took the stand on Wednesday for cross-examination by the defence.
He was asked why he had not given a fuller account of the abuse to social services when he was interviewed in 1997.
Flashbacks
He said they (social services) were not very forthcoming with questions and it became clear the social worker did not believe him.
A defence lawyer also asked him if he accepted that flashbacks could affect the reliability of his memory.
He replied: "I don't accept that."
The alleged victim also outlined an episode where his head was pushed into a pillow and he was raped by several men.
He said: "I had never felt pain like it, I thought I was going to die."
One defence lawyer questioned his ability to know that his uncle was involved in carrying out the abuse given he was screaming into a pillow.
The witnesses said he was 99.9 per cent sure his uncle was involved because he heard his voice.
Between them, the three defendants are facing 56 charges, including multiple counts of rape, gross indecency and cruelty.
The accused cannot be named in order to protect the identities of the alleged victims.
The trial continues.