Philip Strickland murder: Son places father at scene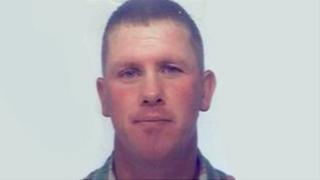 The son of a farmer accused of murdering a man two years ago has told a court his father was at the scene of the crime and was carrying a shotgun.
Philip Strickland, 37, was murdered in Comber in January 2012.
Ian Weir, 29, from Derryboye Road, Killinchy, who has already pleaded guilty to murder, said he saw his father, Jimmy Seales, 55, of Ballykeel Road, Hillsborough, with a shotgun.
Mr Seales denies murdering Mr Strickland.
Stephen McCaughey, 26, of Shackleton Walk, Newtownards, also denies murdering the 37-year-old.
Both men also deny a charge of possessing a firearm with intent to endanger life.
Mr Weir's brother, Jason, 28, from Comber Road, Carryduff, has also pleaded guilty to murder.
The farm labourer was found dead in his Citroen Saxo on the Ballydrain Road on the outskirts of the County Down town on 11 January 2012 after being shot in the face at point blank range.
On Wednesday, Mr Seales's son, Ian Weir, told a jury at Belfast Crown Court that his father was present and armed with a shotgun when Mr Strickland was killed.
Mr Weir said both himself, his brother Jason, and Stephen Charles McCaughey were in a yard on the Ballyglighorn Road when his father arrived.
When asked where Mr Strickland was at this stage, Ian Weir said he was standing beside his Saxo, fighting with his brother Jason.
The prosecution witness said his father was holding a shotgun.
He said: "I heard a loud bang as my father was standing beside the car, and Philip Strickland approached my father."
'Sorry'
Ian Weir said he did not know what the bang was, but that Mr Strickland collapsed.
When asked if he heard anything said, Mr Weir replied: "He said 'I'm sorry Jimmy', or something."
The prosecution allege that after being shot in the leg, Mr Strickland was bundled into the boot of his own car and driven a short distance to the Ballydrain Road, where he was shot in the face.
When asked about what happened on the Ballydrain Road, Ian Weir said: "There was a loud bang, the same one that I heard in the yard. My father was standing at the driver's side of the Citroen Saxo."
Ian Weir claimed he then walked back to his car and was followed by his father, who got into the car and threw the shotgun at him, which he then pushed onto the floor.
He told the jury he left the scene with his father and drove back to their house in Killinchy.
When asked if he talked to his father about what had happened, Mr Weir said: "I think I said, 'what was all that about?'"
He claimed his father told him that Mr Strickland had beaten him and urinated on him when he was lying on the ground.
Under cross examination by Brian McCartney QC, the defence barrister for Mr Seales, Mr Weir denied being a "habitual liar".
When it was suggested that he was lying about his fathers presence, Mr Weir said: "My father was there. You can believe whatever you want, but my father was there."
Ian Weir admitted that prior to his arrest for the murder, he was a chronic cannabis user.
He also admitted that he lied to police about the murder, but claimed this was to protect his father.
Weeping
He told the jury: "My father always came first, I always put my father first. If he said jump, I would say 'how high'. I do love my father. I love him today and I will always love him."
When this was said, Mr Seales, who up until that point had not looked at his son as he gave evidence, wept in the dock.
As the cross examination of Mr Weir continued by Brian McCartney QC, the 29-year-old denied being involved in an assault on the victim, telling the court: "I never touched Philip Strickland."
Mr Weir also denied giving evidence against his father to attract a shorter sentence.
Mr McCartney told the court the relationship between father and son deteriorated because of Ian Weir's chronic cannabis habit, which his client, Mr Seales, was "very disapproving of".
Ian Weir admitted spending £250 a week on cannabis and revealed he used to smoke up to 14 joints a day, but denied stealing money from his father to fund his drug habit.