Michael Caulfield death: Lorry driver 'devastated' by fatal crash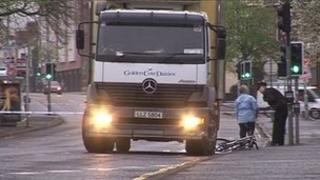 A driver who was cleared of causing the death of a cyclist almost three years ago has spoken publicly for the first time about the "tragic accident".
James Thompson has described the impact of the crash as "totally devastating".
He had been due to stand trial for causing the death by careless driving of Michael Caulfield, who died in the collision in Belfast in April 2011.
However, after the jury was sworn in, the prosecution did not offer evidence and Mr Thompson was found not guilty.
Mr Caulfield, a 56-year-old father-of-four, from Saintfield, County Down, died when he was struck by a lorry driven by Mr Thompson at the junction of Ormeau Road and Annadale Embankment on 15 April, 2011.
The lorry driver was initially told he would be charged with causing death by dangerous driving, but this was later reduced to a charge of causing death by careless driving.
As the trial began ten days ago, a prosecution barrister told the court that "following a review of evidence in this case'' the Crown was not offering any evidence.
The judge directed the jury to return a verdict of not guilty.
'Deepest sympathies'
Speaking to BBC Radio Ulster, Mr Thompson said he was relieved to be cleared of blame, but is still finding it difficult to cope with the impact of the tragedy on Mr Caulfield's family and his own.
"Every night I went to bed I was thinking about it, and every morning I woke up it was still there, so it was very, very difficult to cope with.
"Put it like this, I wouldn't like to go through that again," Mr Thompson said.
He added that he was "totally devastated" after the fatal collision, and described his feelings when the investigating police officer told him that the victim had four children.
"It was just, the thought of a wife and four kids, and that poor man not there anymore to look after them, it was a devastating thought."
The 52-year-old lorry driver, from Tandragee, County Armagh, took almost a month off work after the crash.
He has offered his "deepest sympathies" to the Caulfield family but said he was not at fault for what he described as a "tragic accident".
After the verdict, Mr Caulfield's widow, Bernie, criticised the judicial system and the lengthy process of getting the case to court.
"I feel cheated. I feel the system has let me down, not informing me, not keeping me up to date," she told the BBC last week.
"I just feel I have never mattered in any of this, and in another way, the driver himself.
"It must be just as bad for him, because he had been waiting like me to get this over and done with - to get, in my case answers, him to know his fate," Mrs Caulfield said.
Witness
Mr Thompson told the BBC that initially, prosecutors "were going to charge me with causing death by dangerous driving, which I couldn't understand because as far as I was concerned I had followed all correct procedure in negotiating that corner.
"I couldn't understand what I could have done wrong", he told the BBC's Good Morning Ulster programme.
"A witness came forward a week or two after that and had seen what had happened at the junction. They reduced the charge to causing death by careless driving, but even at that it was quite a serious charge."
The lorry driver said he found it "nerve-wracking" to be standing in the dock of a court, with a jury having been sworn in, adding that he was not expecting the "last minute" decision that spared him from facing a full trial.
"The Director of Public Prosecutions had a third look at the evidence and realised that there was no way they could charge me with anything. Basically there was no evidence at all whatsoever," Mr Thompson said.
'Faith'
He told the programme that the collision and the police investigation had badly affected his 88-year-old mother, who was in the early stages of dementia.
"This accident had really changed her in respect that it seemed to accelerate her problem and she got worse and worse."
The pensioner died less than a year after the crash, without knowing that her son had been cleared of the charge against him.
"Unfortunately she'll never know now, but I think she had faith in me too. She said if I was sure that I had done nothing wrong then the truth would come out in the end," Mr Thompson said.
Asked about his thoughts towards the Caulfield family, the lorry driver said he "couldn't change things".
"Many a time I wished I could, but I had no power to change the outcome of that accident and unfortunately, people's lives were going to be changed forever."