Philip Strickland murder: Ian Weir denies firing fatal shot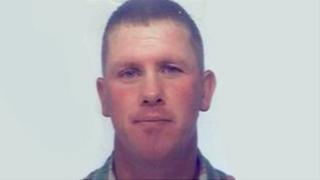 A County Down man who has already pleaded guilty to murdering a farm labourer has denied firing the shot that killed him.
Philip Strickland, 37, was shot dead on the outskirts of Comber on 11 January, 2012.
Ian Weir and his brother, Jason, have already pleaded guilty to murder.
Jimmy Seales, 56, from Ballykeel Road, Hillsborough, and Stephen Charles McCaughey, 26, of Shackleton Walk, Newtownards, deny the charge.
The jury at Belfast Crown Court has already heard that Mr Strickland was shot in the leg at a yard on the Ballyglighorn Road before being bundled into the boot of his own car and driven a short distance to the Ballydrain Road, where he was shot in the face.
During a second day in the witness box, Ian Weir said that after Mr Strickland was shot in the leg and before he was shot in the face, it was his opinion that Mr McCaughey left the scene.
The jury heard that when queried about whether he had been asked by Mr McCaughey to minimise his role in the incident, Ian Weir replied: "Why would I minimise his role in it? Stephen did nothing. Why would Stephen ask me to do that when he had nothing to do with it."
'I would have manned up'
When a barrister for Mr McCaughey suggested to Ian Weir he had fired the fatal shot, Mr Weir replied: "I did not shoot Philip Strickland."
The barrister said his client told police: "I would like to say Jimmy pulled the trigger, but it was Ian."
Mr Weir replied: "If I shot Philip Strickland, I would not be dragging my family through the courts the way this has been done. I would have manned up in the police station and said it."
Earlier this week Ian Weir, a father of two from Derryboye Road in Killinchy, said his father Mr Seales had been at the murder scene, armed with a shotgun.
Mr Seales has consistently denied he was present when Mr Strickland was killed.