Larne gun attack: Pair escape injury as shot is fired at home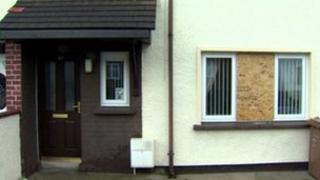 A family has escaped injury in a gun attack on their home in County Antrim.
A gunshot was fired through the living room window of the house in Ferris Avenue, Larne, at about 01:00 GMT on Friday.
A man and a woman who were in the house at the time were not injured.
East Antrim MLA Oliver McMullan said he believed a shotgun had been used in the attack and that it was an attempt to intimidate the family.
"The woman in the house had just left that room two to three minutes prior to this shot being fired through the window and it was only by this that we are not looking at a fatality today.
"They are a very hard-working, very well respected family in the community, and to suffer this from individuals I think is really intolerable," Mr McMullan said.
Police have appealed to anyone who witnessed the shooting to contact them.