RVH major incident review announced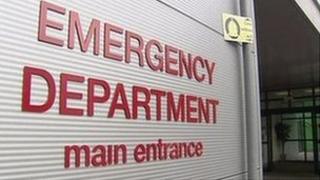 A review is to be carried out of the major incident declared at Royal Victoria Hospital's accident and emergency department.
Stormont Health Minister Edwin Poots told the assembly the Health and Social Care Board would carry out the review.
The team's membership and terms of reference are being finalised, he said.
Earlier this month, the RVH in Belfast declared a major incident, with staff and patients saying conditions were horrendous.
Belfast Health Trust said the move was necessary to trigger more staff to come in to help clear a backlog of patients.
Mr Poots told the assembly on Tuesday: "The trust has an ongoing programme of reform to improve its service, and the specific learning from this incident, including modification of the trust's escalation plan, in order to minimise the likelihood of having to instigate such measures again," he added.
"There will continue to be periods of pressure in all our emergency departments throughout the winter.
"The Belfast Trust and the Royal Victoria Hospital, in the three days that led to the emergency plan being put in place, had 380 admissions to hospital. In the same three days last year, they had 300 admissions.
"In truth, the problem didn't exist in the emergency department - the problem existed in that people were not being taken out of the emergency department to other parts of the hospital."